DATELINE AMERICA:
essays BY CHARLES KURALT & PHOTOS BY MARK CHESTER
Charles Kuralt received three Peabody Awards, two of these Personal Awards, and ten Emmy Awards, and wrote several books including To the Top of the World, Dateline America, On the Road with Charles Kuralt, Southerners, North Carolina Is My Home, and A Life On the Road.
In 1981, he received the George Polk Memorial Award for national television reporting, and was named Broadcaster of the Year in 1985 by the International Radio-Television Society.
As a Peabody winner, it was said that Charles Kuralt "discovered that individualism still flourishes and the pioneer spirit lives on" — in the United States in 1975 — attention was called to his "rare skills in research and his sympathetic character delineations" and to his "nostalgic vignettes" in the 1960s in "the midst of daily crises."
THE BOOK
"YOU CAN'T FRAME IT"
"One of the sad things about this job is it doesn't survive. It's gone in a twinkling. It's on the air and never on the air again. It's gone. You can't frame it. You can't send it out to a publisher and hope it sells. It's just a fleeting thing. So I don't think I'll be remembered for anything. And if I do any good, it's just the same thing all journalists hope they do — maybe some good by enlightening people about the times they live in."

— Charles Kuralt, 1965 Interview

Kuralt published his first book three years after giving the interview from which this quote is excerpted. The dustcover of Dateline America photographed by Mark Chester and published eleven years after that has been framed by the photographer and hangs at the entry to his home gallery.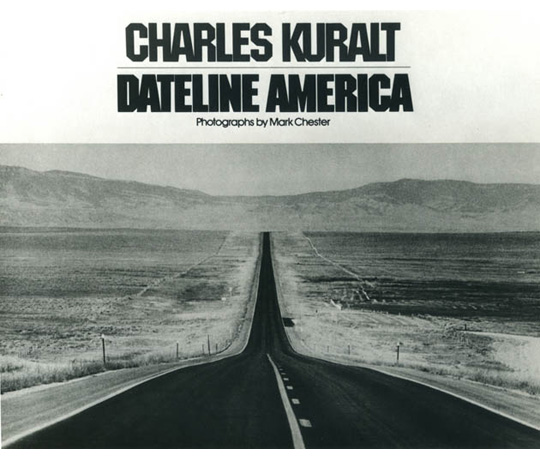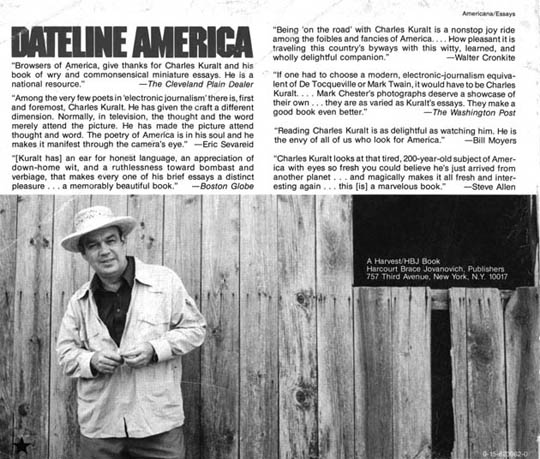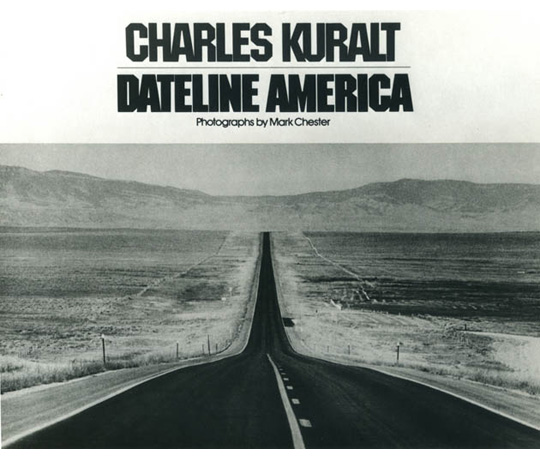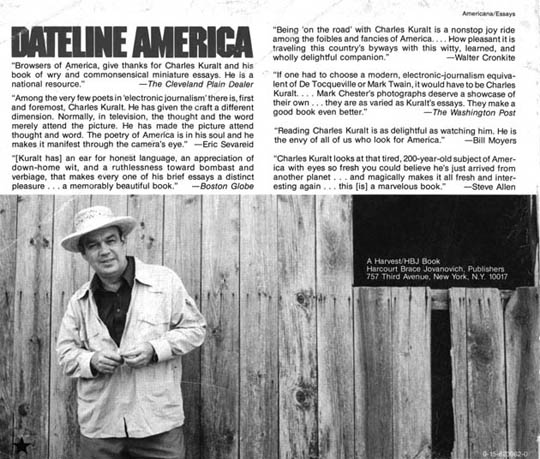 THE PHOTOGRAPHS
"ONE OF OUR FINEST"
"...one of our finest...a wonderful eye and consummate skill..."

— Charles Kuralt on Mark Chester


CHARLES KURALT: A ROLE MODEL
"THANK YOU, CHARLES KURALT"
"He said that my photographs were 'made in the spirit of his essays — plain and straightforward' that I had 'enough courage and certainty not to bother being arty.' He made my day. And he has made my years since.

Thank you, Charles Kuralt."

— Mark Chester, 2009